Warsaw, Poland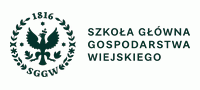 Faculty of Social Sciences
Wydział Nauk Społecznych
The Faculty of Humanities was established on July the 1st 2006 by the decision of Rector Magnificus Prof. Tomasz Borecki on the basis of the Chair of Humanities of the Economy and Agriculture Faculty as the twelfth Faculty of the University of Life Sciences. Humanistic traditions were always carefully cherished at that Faculty. The staff of the new Faculty form an interdisciplinary team committed to the development of the quality in teaching and research. Their competences and scientific interests combine many fields of humanities: sociology, education studies, psychology, politology, antropology, history of art and language studies. Presenting and imparting knowledge in this scope to students is performed in the process of teaching as well as by studying scientific papers. The permanent development of scientific knowledge and capabilities of the staff is encouraged by performing scientific research and by comparing the achievements with the effects of other research centres in Poland and abroad. Two Chairs: Sociology and Education and Culture form the scientific units of the Faculty of Humanities and each of them consists of four departments.
Faculty
Faculty may refer to:
Social
Living organisms including humans are social when they live collectively in interacting populations, whether they are aware of it, and whether the interaction is voluntary or involuntary.